Sumika Nakahashi
is a former singer and idol of
Yonagahime 3+1
.
Appearance
Edit
After her time with Yonaga, Sumika eventually became an ordinary Japanese housewife. She is a little chubby and dresses in plain, indoor clothes. Her hair is brown and medium long.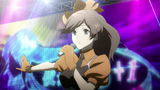 During her time with Yonagahime, Sumika looked much more alive and energetic. She had large, blue eyes and long brown hair. Back then, she was still slim and slender.
Personality
Edit
Sumika appears quite reserved, as she didn't want to come out of her house when Shinjūrō and Inga were there. When Inga waved at her, she quickly closed the curtain.
She was part of the idol group Yonagahime 3+1 after the war. She perfomed together with Kumi Tsunemi and Yumeno Zawayume. After the group split up, Sumika tried to go for a solo career, but their manager, Hisako Osada refused.
Song of the Heartless
Edit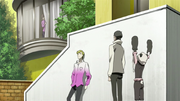 She only appears for a second when
Shinjūrō
and
Inga
come to question her about
Yonaga
and
Hisako Osada
, their manager. Sumika refused to meet them and
her brother
handeled them. She peeked through the curtains for a second, but moved away when Inga saw her.